Bruce Melodie, Passy na Knowless begukanye ibihembo muri HiPipo Music Awards
Bruce Melodie, Passy na Knowless nibo bahanzi babanyarwanda babashije kwegukana ibihembo mucyiswe HiPipo Music Awards byatangiwe muri Kampala Serena Hotel mu gihugu cya Uganda mu ijoro ryo ku wa Gatandatu tariki 16 Werurwe 2019.
Ibihembo bya HiPipo Music Awards bitangirwa muri Uganda ababitegura bahitamo abahanzi bahemba bibanda cyane ku mugabane wa Afurika abo muri Afurika y'Uburasirazuba , Afurika y'Uburengerazuba muri Uganda n'ahandi.
Mu bahanzi baba nyarwanda bitabiriye ibi bihembo , Bruce Melodie yegukanye igihembo mu cyiciro cya "Rwanda Video of The Year"[Indirimbo zifite amashusho meza] igihembo akesha indirimbo ye 'Blocka'. Muri iki cyiciro iyi ndririmbo ye yari ihatanye na Adi Top ya Meddy; Romeo and Juliet ya Dream Boys, Darling ya Butera Knowless na Ben Pol, Manawe ya Dj Pius na Lady Jaydee ndetse na Winner ya Queen Cha.
Passy wahoze mu itsinda rya TNP, indirimbo yakoranye na Knowless yegukanye igihembo mu cyiciro cya "Song of The Year Rwanda" [Indirimbo y'umwaka mu Rwanda] ni indirimbo bise "Mbaye wowe" . muri iki cyiciro iyi ndirimbo yabo yari ihatanye n'indirimbo zitanukanye zirimo Everything ya Uncle Austin na Meddy, Embeera Zo ya Bruce Melody na Sheebah, Yes ya Alpha Rwirangira, Oya ya Buravan, Try me ya Charly na Nina ndetse na Lose Control ya The Ben na Meddy.
The Ben mu ndirimbo yaririmbyemo yitwa 'No You, No Life' ari kumwe n'itsinda ryo muri Uganda , B2c begukanye igihembo cya Best Cross Boarder Collabo.
Sheebah Karungi wari ahatanye mu byiciro 17 yegukanye ibihembo bitatu: Artist of the year, Best Famale Artist na Album of the year yise "Omwooya'.
Muri ibi bihembo bya Hipipo Music Awards, Diamond wari uhatanye mu byiciro 11 yegukanye ibihembo bigera kuri bitatu. Yegukanye igihembo mu cyiciro: Africa's Number 1, Africa Best Male Artist, Africa Super Hit abicyesha indirimbo "Kwangwaru" yakoranye na Harmonize.
Twabibutsa ko ymwaka ushize nabwo abanyarwanda bari bahataniye ibihembo, icyo gihe Charly&Nina ni bo batsinze.Mu bandi begukanye ibihembo barimo Bobi Wine, Tiwa Savage, Davido Fally Ipupa n'abandi batandukanye.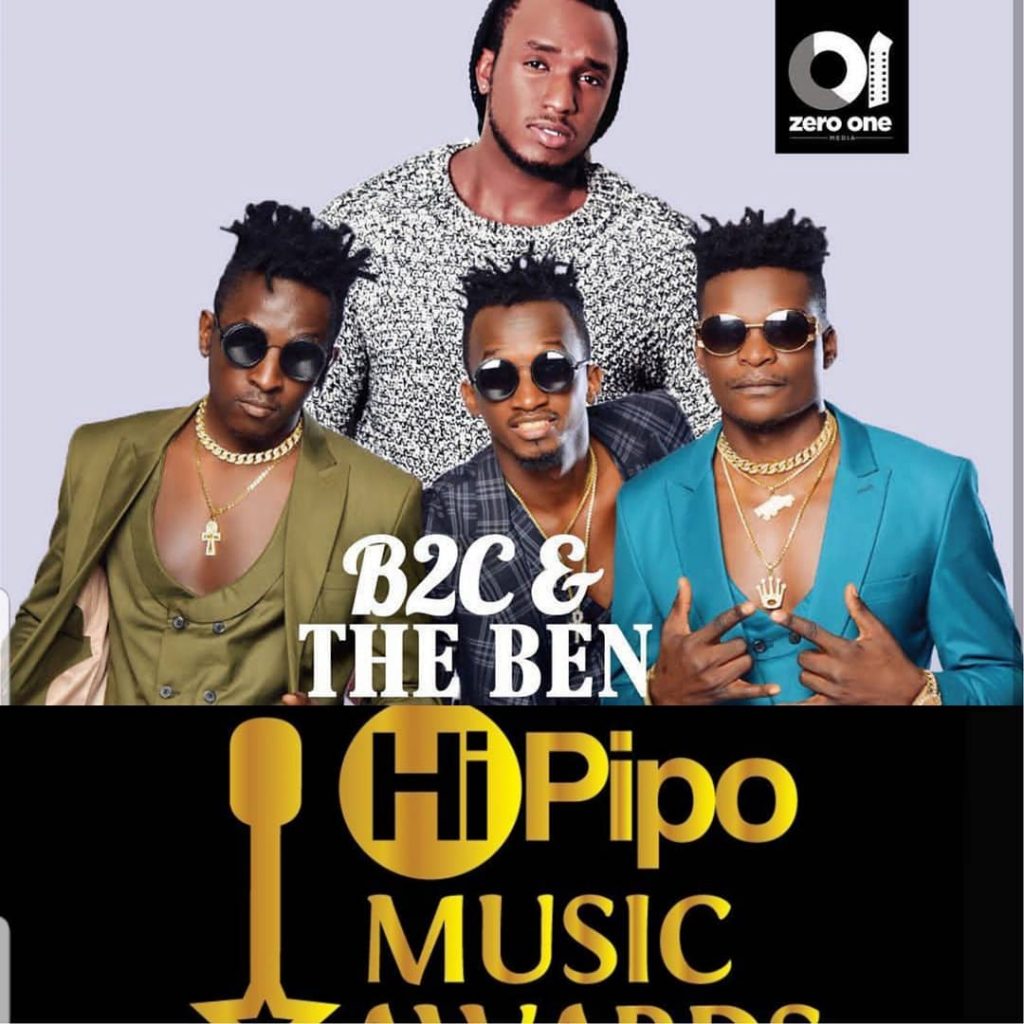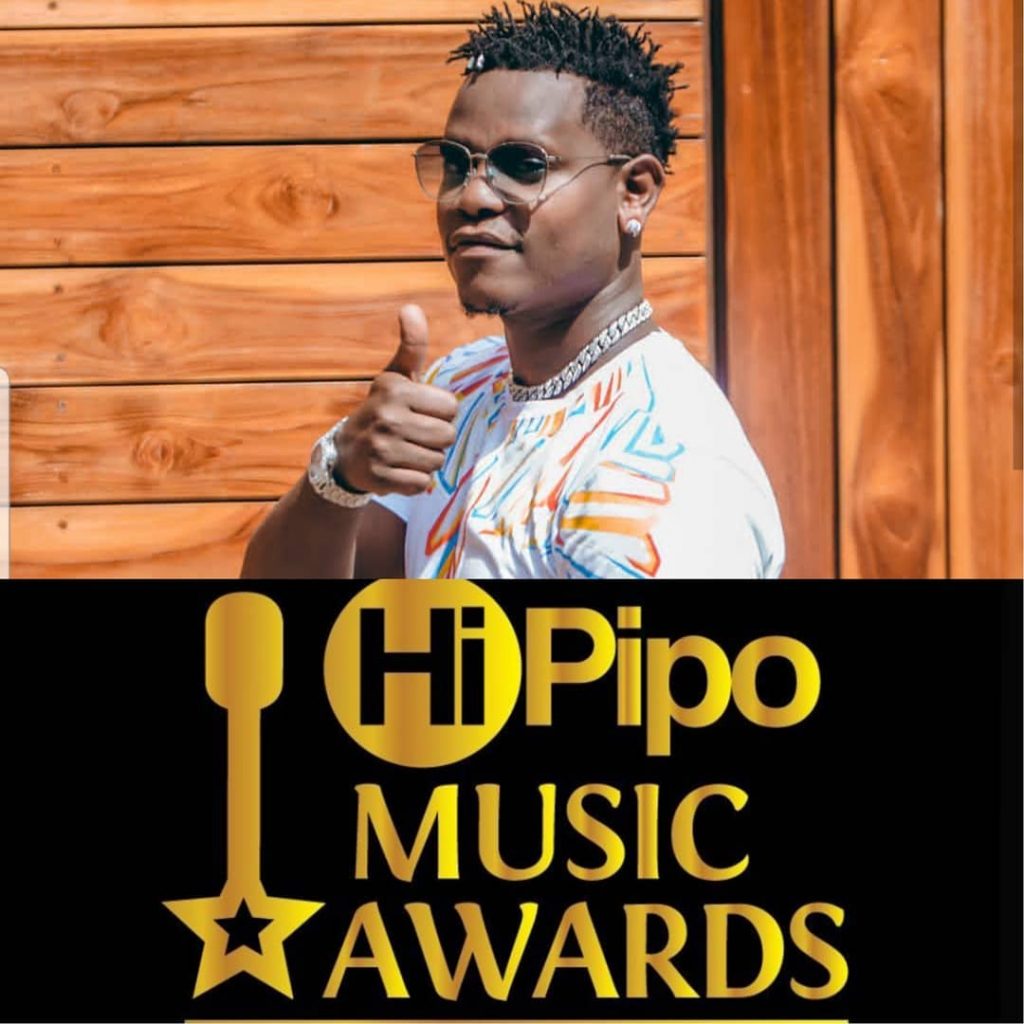 Urutonde rw'abegukanye ibihembo muri Hipipo Music Awards
| | |
| --- | --- |
| Africa | |
| Africa's Number 1 | Diamond Platnumz |
| Africa Best Male Artist | Diamond Platnumz |
| Africa Best Female Artist | Tiwa Savage |
| Africa Song of The Year | King Monada – Malwedhe (Collapse Song) |
| Africa Video of The Year | Shatta Wale – Gringo |
| Best Francophone Africa Act | Fally Ipupa Ft. Keblack & Naza – Mannequin |
| Best Song from Western Africa | Davido – Assurance |
| Best Song from Southern Africa | King Monada – Malwedhe (Collapse Song) |
| Best Lusophone Africa Act | Mr. Bow- Eu Pago |
| Africa Fans Favorite Fresh Talent | Natacha (Burundi) |
| Africa Must Watch AfroPop Artist | Yovi (Nigeria) |
| Africa RnB Maestro | Roberto (Zambia) |
| Africa Hip-Hop Maestro | Sarkodie and Navio |
| Africa Best Group | Sauti Sol |
| East Africa | |
| Song of The Year Kenya | Sauti Sol Ft Nyashinski – Short N Sweet |
| Song of The Year Tanzania | Alikiba – Mvumo Wa Radi |
| Song of The Year Rwanda | Passy Ft. Butera Knowless – Mbaye Wowe |
| Rwanda Video of The Year | Bruce Melodie – Blocka |
| Tanzania Video of The Year | Mbosso – Hodari |
| Kenya Video of The Year | Victoria Kimani – Wonka |
| East Africa Super Hit | Harmonize Ft. Diamond Platnumz – Kwangwaru |
| East Africa Best Video | Vanessa Mdee Ft. Gnako – Wet |
| Uganda | |
| Artist of The Year | Sheebah |
| Best Female Artist | Sheebah |
| Best Male Artist | David Lutalo |
| Best Duo/Group | Voltage Music | Aka Kent & Flosso |
| Best Breakthrough Artist | Nina Roz and Chosen Becky |
| Best A-Cappella Group | Jehovah Shalom |
| Must Watch Male Talent | John Blaq |
| Must Watch Female Talent | Nshuti S Mbabazi |
| Best DJ | Dj Slick Stuart & Dj Roja |
| Album of The Year | Sheebah – Omwooyo |
| Video of The Year | Irene Namatovu – Nsambila Nyuma Nga Janzi (Director NG Films) |
| Song of The Year (Uganda) | Bobi Wine – Kyarenga (Producer Sir Dan Magic) |
| Best Audio Producer | Nessim |
| Best Video Director | Nolton and George (NG Filmz) |
| Best Song Writer | Dokta Brain |
| Best Hip-Hop/Rap Song | Feffe Bussi – Who Is Who |
| Best Rnb Song | Cosign – Obeera Wa |
| Best Soul Song | Kenneth Mugabi Nkwegomba |
| Best Ragga/Dancehall Song | Lydia Jazmine & Daddy Andre – You and Me |
| Best Reggae Song | Naava Grey – Nvuuma |
| Best Band Song | Chris Evans Kaweesi and Maureen Nantume – Kisaaganda |
| Best Contemporary Folk Song | Irene Namatovu – Nsambila Nyuma Nga Janzi |
| Best Kadongo Kamu Song | Jackie Kizito – Tufumba Fekka |
| Best Zouk Song | Chosen Becky Bankunza |
| Best Afrobeat Song | Sheebah – Wankona |
| Best Afropop Song | Vinka – Chips Na Ketchup |
| Best Social Message | Maureen Nantume – Akambe (Written By Desire Kats) |
| Supa Diva Stand Out Act | Winnie Nwagi – Matala |
| Best School Act | Kyaddondo SS Matugga – Welcome To My World |
| Best Religious Song | Swahaba Kasumba – Omwezi Guno |
| Best Gospel Song | Levixone – Turn The Replay |
| Best Gospel Video | Baby Gloria – Mbu Ndi Lubuto |
| Best Religious Video | Ntanda Umar Samir – Subhanallah |
| Written Record Of The Year | Fik Fameica – Property |
| Best Artist In Diaspora | Mc Norman |
| Best Ug Collabo | Slick Stuart, Dj Roja – Very Well Ft. King Saha |
| Best Cross Boarder Collabo | B2c Ft. The Ben – No You, No Life |
| Best On-Stage Performer | Roden Y Kabako |
| Best Choreography | Ghetto Kids Triplets |
| Best Song from Eastern Region | Kim Nana – Podium |
| Best Song from Northern Region | Adong – Yata |
| Best Song from Southern Region | Lindah Blessing – Ntegedde |
| Best Song from Western Region | Amani Amaniga – Karamu |
| Best Cinematography | Pest Grate Make For Fik Fameica And Wembly Mo – Sconto |
| Best MDD Act | Amooti Omubalanguzi for Apaasa Paas |
| Life Time Achievement Award | Annet Nandujja |
| Video Trailblazer Award | Coopy Bly for Wakayima |
| Decade Afrotunes Lyricist | David Lutalo |
| Best Global Act | Joanita Zachariassen |
| National Medal of Honor for Arts and Sports | Golola Moses |
| Genius Producer of the Generation | Henry Kiwuwa |
| Commendation for Social Responsibility | Ghetto King, Nick Rasta |
Comments
comments