The EAC Force Responds to the Death of a Kenyan Soldier in the DRC
On October 24, 2023, a tragedy unfolded in the Democratic Republic of Congo (DRC). A mortar attack resulted in the death of a Kenyan peacekeeping soldier. This incident has heightened tensions in this already unstable region. It occurred following a breach of a ceasefire agreement between the Armed Forces of the DRC (FARDC) and the M23 armed group.
According to a source cited by Capital FM, the mortar that caused the death of the Kenyan peacekeeper originated from a FARDC position, further intensifying concerns about the safety of peacekeeping troops deployed in the region.
In response, the EACRF (East African Community Response Force) has expressed its concerns and is calling for a thorough investigation. The safety of the troops remains paramount. This event raises questions about the adherence to peace agreements. The DRC, despite its wealth, has been marred by numerous ceasefire violations.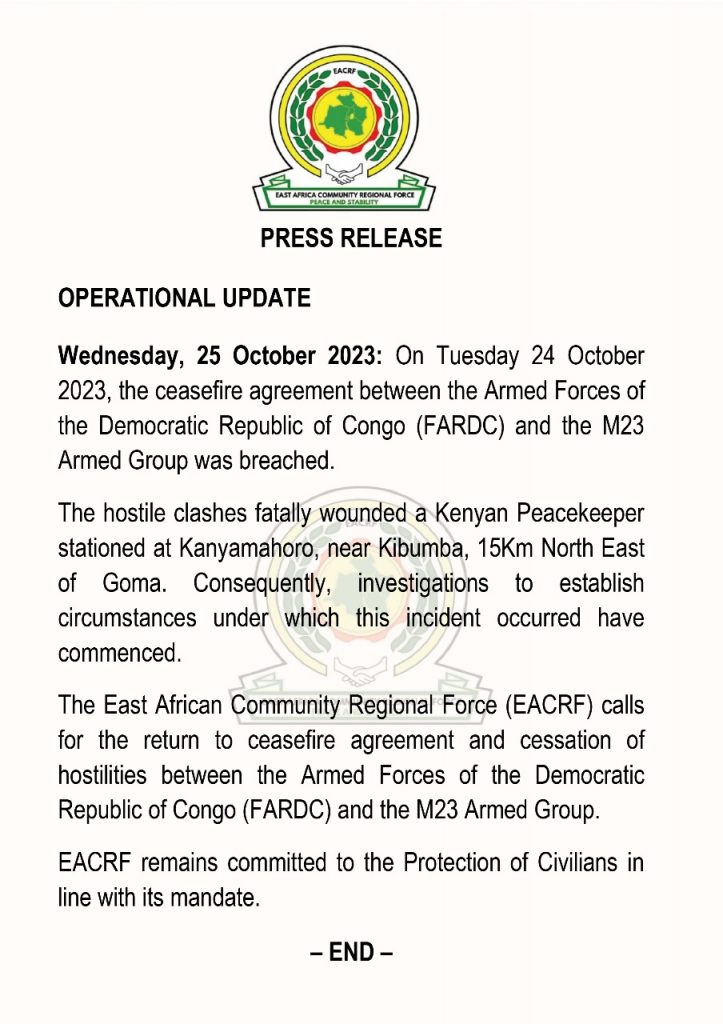 The international community, led by the EACRF, is working diligently to stabilize the region. The loss of the Kenyan soldier underscores the risks associated with such missions. Every stakeholder, from armed groups to peacekeepers, must collaborate to prevent further tragedies. Ultimately, peace in the DRC hinges on mutual respect and collaboration.
Source
PRESS RELEASE pic.twitter.com/Dahmo9BEaS

— EACRF DRC (@eacrf_DRC) October 25, 2023